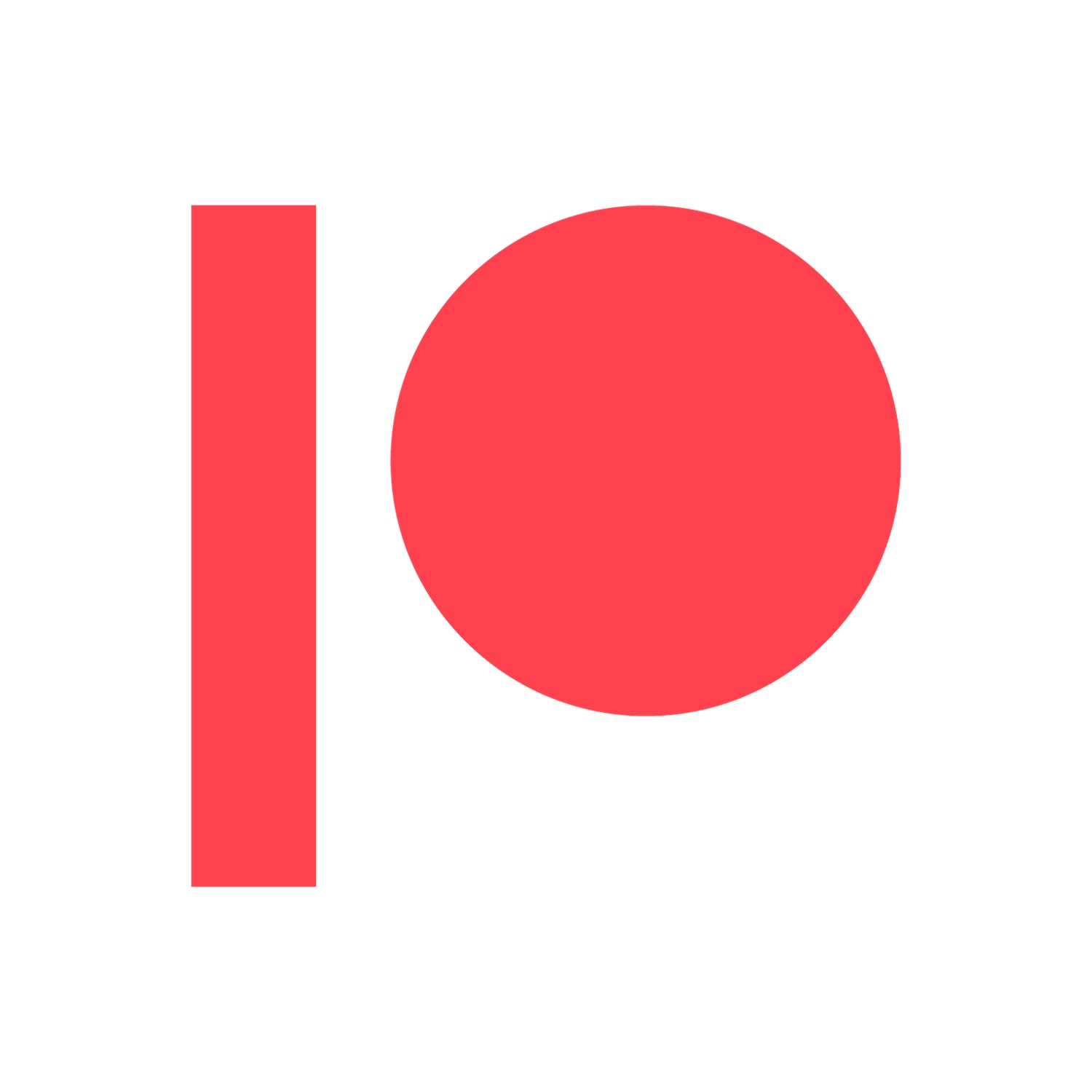 Patreon is a must for creators with followings
Old school revenue sources don't give you the freedom you're looking for. Advertising is unpredictable and unreliable. Merchandise sales don't offer recurring income. Selling yourself to another company means you'd be working for someone else (Gross!).
Monthly support from fans is what you need! As of 2021, creators on Patreon are collectively earning over $100 million a month from over 7 million Patrons, and now it's your turn to join the party.
Plus, Patreon doesn't need to replace any other revenue streams you have if you don't want it to. You'll only be growing your revenue, and your fans will be thrilled to receive rewards from the creator they love. Some fans won't even want benefits in return. It's a win-win-win.
Andrew's course gives you a foundation for success using proven strategies
Patreon has tons of features and options to sort through, and the thought of pursuing a project like this can be daunting for a variety of reasons. You may be asking questions like, "What are the best Patreon rewards?" "How much will I make on Patreon?" "Which of these Patreon features should I use?" "Do I need Patreon 'goals'?"
And the biggest question of all: "Will my fans even pledge to this thing?!"
Andrew's here to help, and you can trust him: He and his friends have over 1,700 Patrons and $100,000 in annual revenue in their #Millennial and MuggleCast Patreons, which launched in 2015 and 2016 respectively. Go ahead -- click the links and see the success for yourself.
Patreon is a robust platform, but that means it can be confusing and overwhelming. Don't be alone as you build your Patreon page, otherwise you might waste time with the wrong benefits, settings, and decisions. With Andrew's course, you will make money faster, you will waste less time, and you will delight your fans.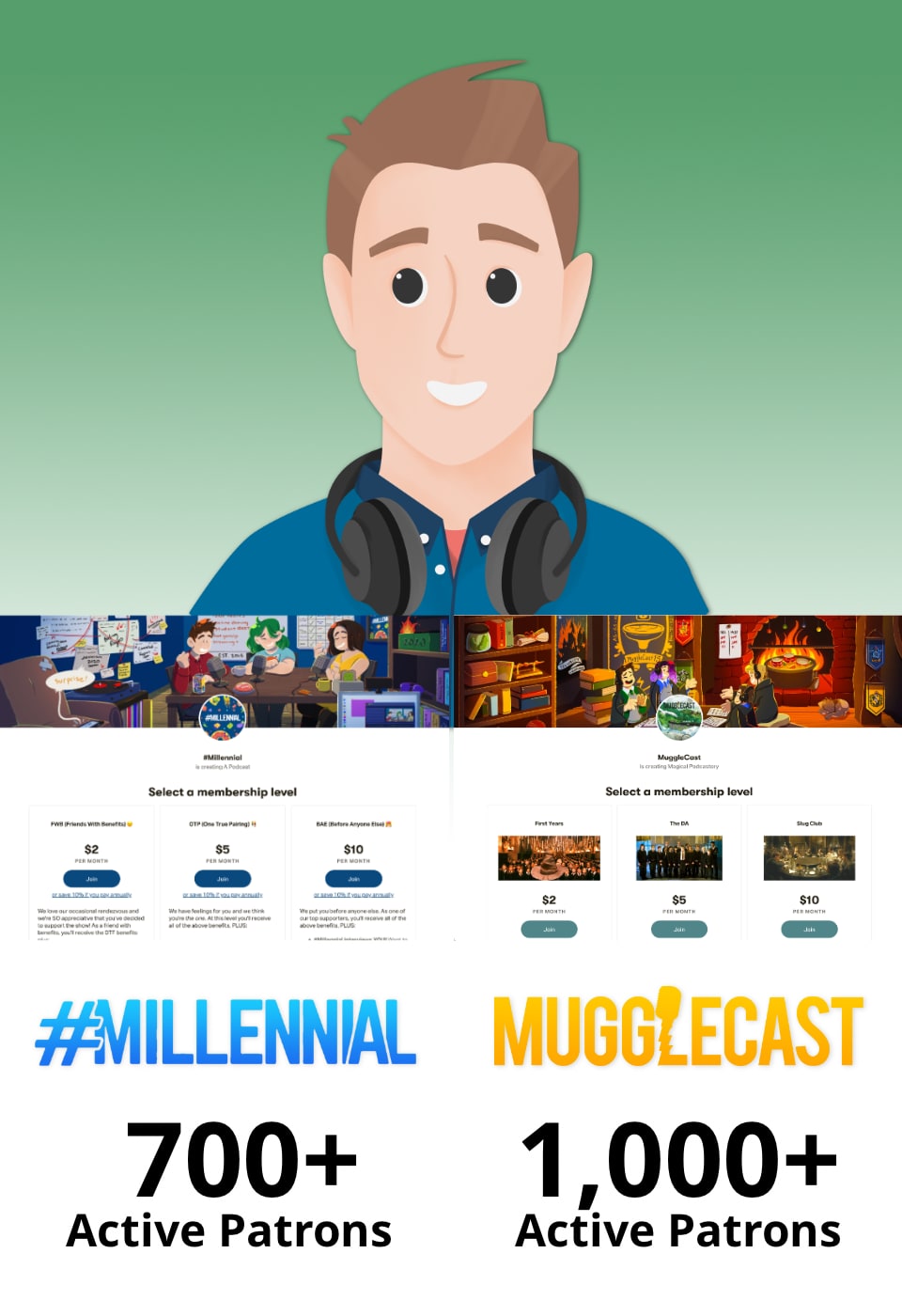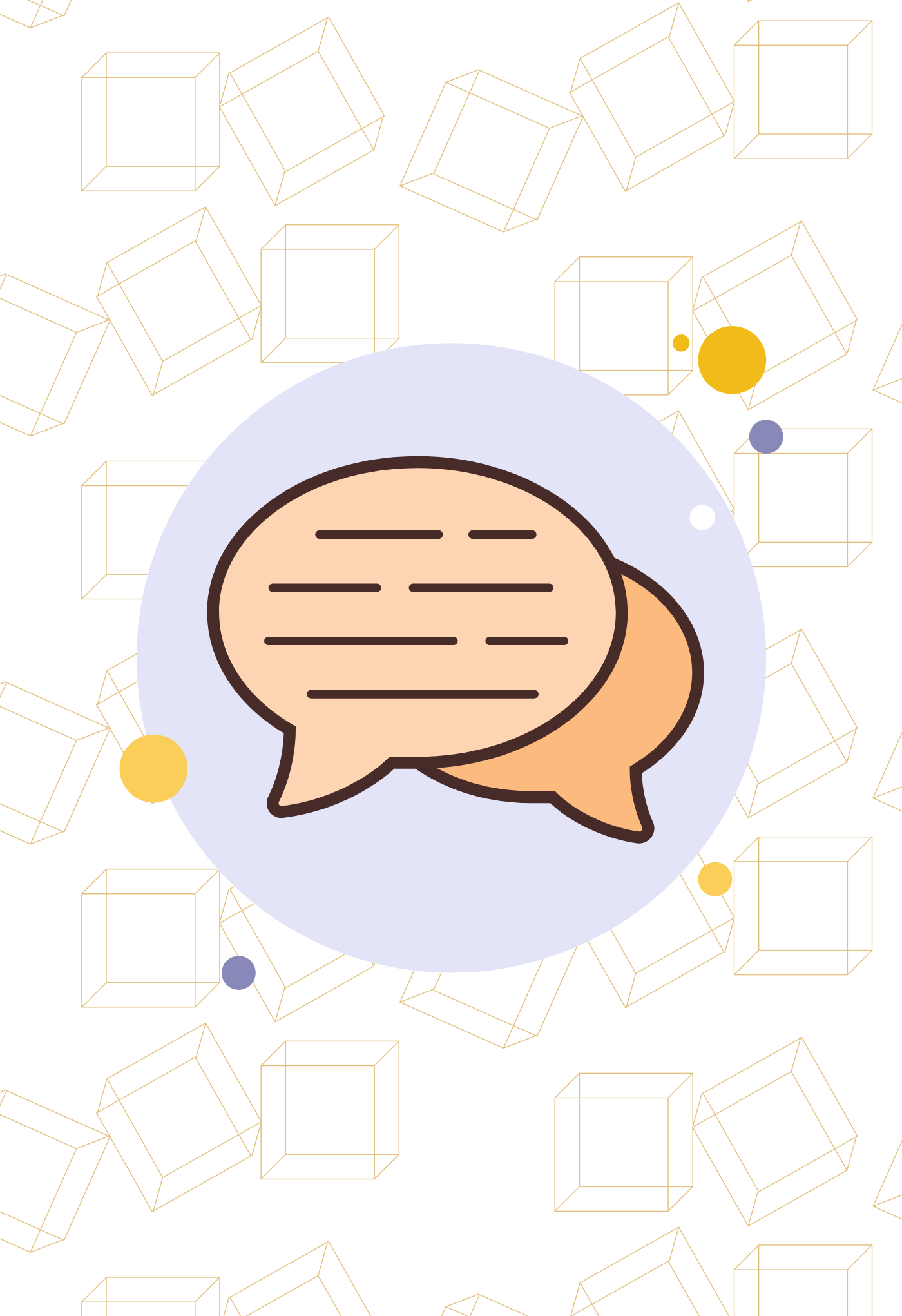 Testimonials
See what creators like you have to say about working with Andrew to build their Patreons:
Gretchen Hirsch - Fashion Designer
"Andrew was invaluable when I started my Patreon! There's so much overwhelming information out there, and it was worth every penny to have an expert guide me through the process of pricing tiers, brainstorming rewards, managing patron relationships, and more. Thanks to Andrew's guidance, my launch was a huge success and my Patreon income has allowed my business to grow in so many ways." (See Patreon)
Buffalo Rose - Musicians
"Andrew was fantastic. He gave us some incredible advice at a time when we were trying to take our Patreon to the next level, and it really worked!" (See Patreon)
John Thrasher - Podcaster
"Andrew was so gracious and helpful as I went from corporate podcaster to independent creator. He not only knew the "hows" but he knew the "whys" as well. Everything he helped me with was backed up with thoughtful reasoning. With almost 2 decades of podcasting and community management experience, there's literally no one better than Andrew at this, which is exactly why I came to him in the first place." - (See Patreon)
Meet Andrew and his course
Andrew's been podcasting since 2005 and running successful Patreons since 2015. He was invited to join Patreon's ambassador program in 2021, in which Patreon recognizes "creators who have built successful memberships and advocate for fellow creators." In addition, he's attended numerous official Patreon events to learn the in's and outs of the platform. Since 2019 he's been consulting one-on-one with creators to help them develop successful Patreons. Now, he's taken all of his experience and wrapped it up in this course.
If you have an established following online, you can make money from Patreon too! Watch a quick introduction to this course:

Curriculum Preview
This info-packed, 3 1/2-hour course will take you every step of the way through planning, launching, promoting, and growing your Patreon. The lessons are all based on Andrew's successful use of the platform, information he's learned from the team at Patreon, and what he's learned from his own fans and fellow Patreon creators. Worksheets and templates are also included. Here's a chapter-by-chapter breakdown: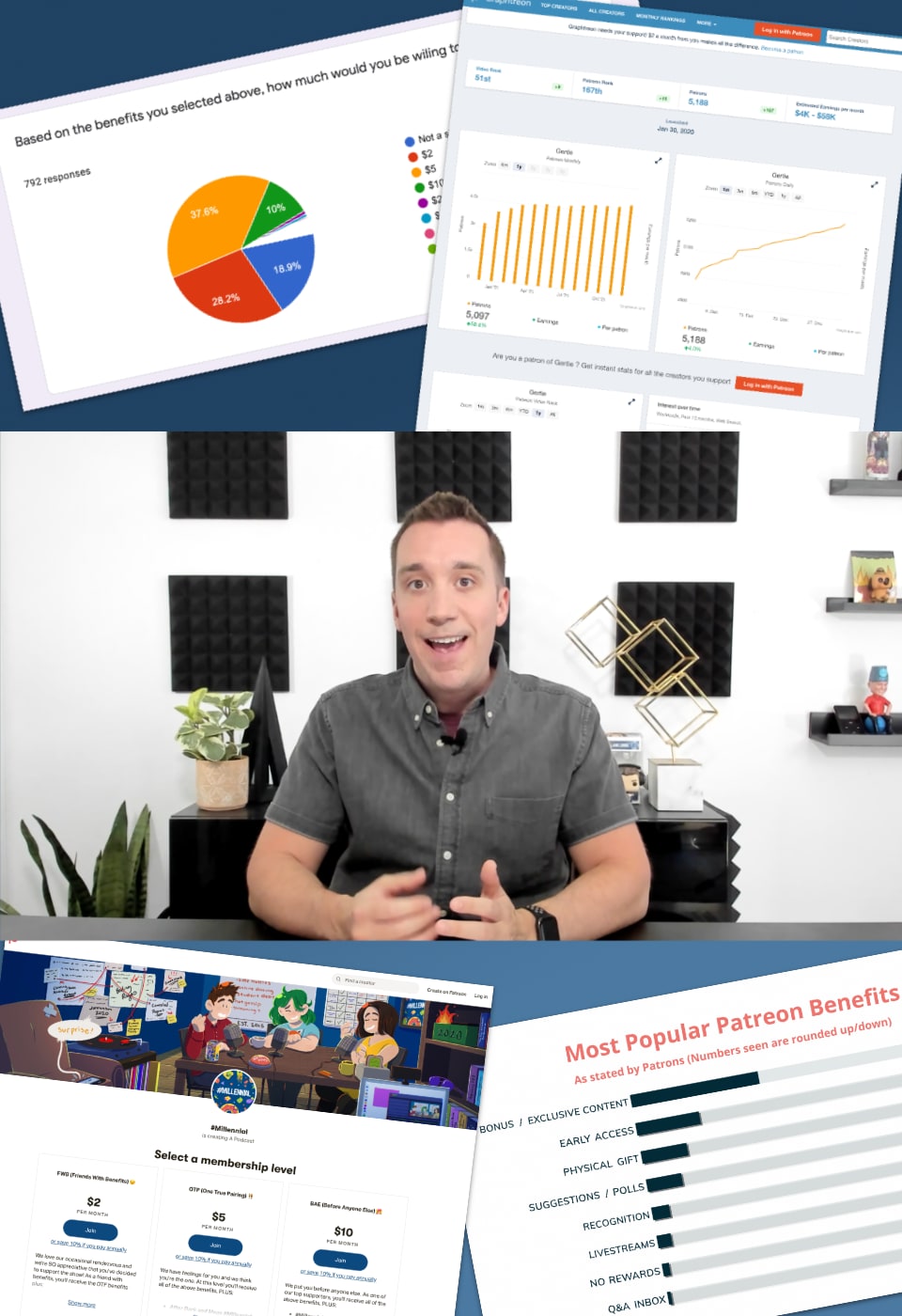 A complete course on Patreon -- from start to finish to beyond
This course covers every part of using Patreon, including what to do as your Patreon grows up. Andrew teaches you how to:
Determine how many fans will pledge to your Patreon so you can avoid disappointment and embarrassment
Select the best Patreon benefits, goals, and rewards that will drive your fans to pledge
Master the Patreon setup process and all of the platform's features
Continually improve your Patreon in the years to come
Understand the data Patreon provides about your fanbase
Keep your fans happy and retain them for the long term
This video course includes worksheets, transcripts, behind-the-scenes data, templates, supporting documents, and various examples of everything taught. Closed captioning is also available.
FAQs
Is this course for crowdfunding platforms besides Patreon?
Yes, it can be used for all crowdfunding platforms. While Andrew does go through Patreon features, many of the lessons can also be applied to other crowdfunding sources (i.e. Learning how to determine what types of benefits your fans are looking for; How to keep fans happy over the longterm; How to deal with merchandise shipments to fans)
I don't know if I'm ready for a Patreon. Should I still buy this course?
This course is designed for creators who have an established following of any size on the internet. An "established following" means that you have fans who are returning to your work on a recurring basis. If your fans enjoy what you do and keep coming back for more, Patreon should be able to work for you, and I can help you make sure it's a success. Early in the course I help you determine how many fans you can expect to convert to Patrons so that there are no surprises come launch time.
My Patreon is already live but I need help taking it to the next level. Will this course help me with that?
Yes! In fact, most if not all of the chapters in this course will be very helpful for you. Building the Patreon is only one part of this course. I go through the entire process, including how to shake up and grow your Patreon as it ages, as well as how to figure out what your fans want to pay for.
Will you work with me 1 on 1?
One version of this course includes a live, 1-hour Zoom session with me to answer any questions you may have about the course, or if you'd like additional guidance building and launching your Patreon.
If you purchase the standard version of the course without the live session, I am happy to answer some questions over e-mail.
I offer 1 on 1 consultations without the course through my consulting site. However, I highly recommend taking the course. I have packed this course with information and built it with a professional course designer to ensure it is effective.
Does this course include supplementary materials?
Yes! The course includes worksheets, a couple quizzes, visual examples, screen shares, and you'll receive a certification of competition. If you prefer or need written content, Closed Captioning is available for each lesson, and full transcripts are provided.
Are you employed by Patreon?
No, I am just an online creator who uses Patreon for my own online work and has had tons of success using it. You could definitely consider me a Patreon fanboy. In addition, I have met with Patreon team members on numerous occasions to learn more about the platform. In 2021 I was also invited by Patreon to be a part of their Ambassador Program, in which I'm invited to meet with Patreon's team and fellow creators to discuss tips, tricks, and best practices.
Do the course materials expire?
They do not expire. You can access them whenever you'd like, and you can jump around to whatever chapters you need at any time.



I have another question
Please reach out to me via e-mail ([email protected]) or social media (Instagram: @AndrewOnPatreon)

Jump straight to success with "Building the Perfect Patreon"
"Andrew is hands down the most knowledgable consultant if you're interested in starting a Patreon. He answered all my questions with ease and I definitely had a lot. I would have been lost in the process without his expertise." - The Curious Girl Diaries - Podcast